Bathtub paint for kids
Keeping your toddler busy can be really hard.
Especially if you're trying to work from home.
My toddler likes to destroy everything and takes everything apart so it's really hard to find a good thing to keep her entertained.
She also really likes to put everything in her mouth so it's important to have either stuff she can't take in her mouth or edible toys.
Whatever works and doesn't harm her.
We found out that you can make some edible paint for the bathtub with just two really simple ingredients.
Pretty much exactly what we need. And such a easy DIY project.
This is not really about the paintings itself but for keeping your toddler entertained and happy.
There are affiliate links in this post, meaning, at no additional cost to you, I will be compensated if you click through and take action. For full disclosure click here.
What you need:
yogurt
little bowls
A spoon
painting brush
The number of bowls depends on the different colors you want to make so the more colors you want to mix the more bowls you need. We only did the basic colors: yellow, blue, red, and green.
This might also be interesting:
– Salt Dough fake food
– Kids activities
– DIY Busy book for Toddler and preschool
– Make your own moonsand
– No sew busy book
– Baby safe play dough recipe
How to make it:
This is so simple that your toddler can't even make it completely by themselves.
Start with any plain yogurt – I like to use Greek yogurt.
If you do not have any plain yogurt you can also use yogurt with fruit in it – whatever works really.
Now open the yogurt and evenly distributed into the different bowls.
Now you can add a few drops of food coloring. we used two drops for every bowl which made a really nice color but if you like it more intense you can add another drop or two.
You can use the color anywhere in your house but it's probably best and less messy if you let your toddler use it in the bathtub.
I saw people using cookie sheets and putting the toddler in a highchair to paint.
Just sit your kid down in the bathtub with the bowls in front of your kid and hand them the brush.
After I showed my toddler how to use it she went all crazy and got the whole color everywhere in the bathtub including herself.
She even ended up dumping the whole bowl.
You could see that she had so much fun doing so and it kept her busy for a good 30-40 minutes.
And after she found out that she can eat it it was even funnier.
She was sitting in her bathtub with the bowls in front of her and she's eating it with her hand.
This is the activity we're definitely going to do again and it was so much fun and easy to make.
It ended in a big mess in the bathtub.
But that's the good thing with a bathtub – you can just wash everything off including the baby.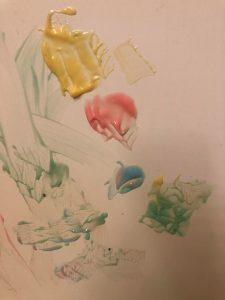 As you can probably tell from the picture it was a huge success with my daughter.
If your kid can't handle dairy products this recipe is a great alternative for edible paint.
Did you try it out? how did you like it? Let me know in the comments.
Do you need ways to keep your kid entertained while working from home? Get fun worksheets, coloring pages and more for free when you subscribe to my emails.
And find your tribe of like-minded parents in our Facebook group.