With Christmas coming up very soon now is a great time to start working on making your own decoration.
This list includes a variety of fun Christmas projects that are so easy to make you can involve your kids in the process and they look amazing as decorations in your house.
DIY Christmas decorations
Kids love to help with everything around the house so why not involve them in making your own Christmas decorations?
We always love a good crafting project in our house and my toddler feels accomplished after she managed to create something on her own.
All of the Christmas decorations you can make yourself are also a great way to add small gifts for your whole family under the Christmas tree.
To see the full instructions for each DIY Christmas decoration simply click on the blue-colored headline.
Create these lovely salt dough ornaments with the whole family! You can paint them with fun festive colors or preserve tiny handprints, footprints, or even pawprints!
You can also find a simple recipe for salt dough including other non-seasonal ideas to use it on my other blog post – how to make salt dough fake food for the play kitchen.
These colorful and glittering candy cane Mason jar luminaries are a festive way to add some twinkling warmth to your Christmas decorating.
I know my daughter would absolutely love how much glitter is involved in creating this cute Christmas lantern.
Easy Christmas craft ideas are perfect for me because I don't have hours to spend on crafting.
Learn how to make Christmas balls out of paper.
Peppermint Candy Trees – Grab the peppermints and a few helping hands to make these pretty peppermint candy trees.
They are a beautiful addition to your Christmas decor and you can sneak a sweet snack too.
Free Printable Peppermint Candy Garland – Making garlands is a family affair.
String together this Free Printable Peppermint Candy Garland and hang on a tree, entryway or mantel.
Made with felt these Santa napkin holders are guaranteed to hold your festive napkins in place while also adding a nice touch to your christmas dinner table.
If you want to add to your Holiday Season a rustic yet glamorous touch to your Christmas tree, here you have a cute Twine Ball Christmas Ornament Tutorial, it's super easy to make, super rustic, and adds such natural beauty to your tree!
This might also be interesting:
– Memorable Christmas traditions to start with your family this year
– Fun and easy Christmas crafts for kids to make
– Free printable wishlist and letter to Santa
– How to make a Christmas eve box for toddlers
Make your own cute Christmas DIY Mitten Ornaments this holiday season to hang on your tree, as a family craft night or give as gifts.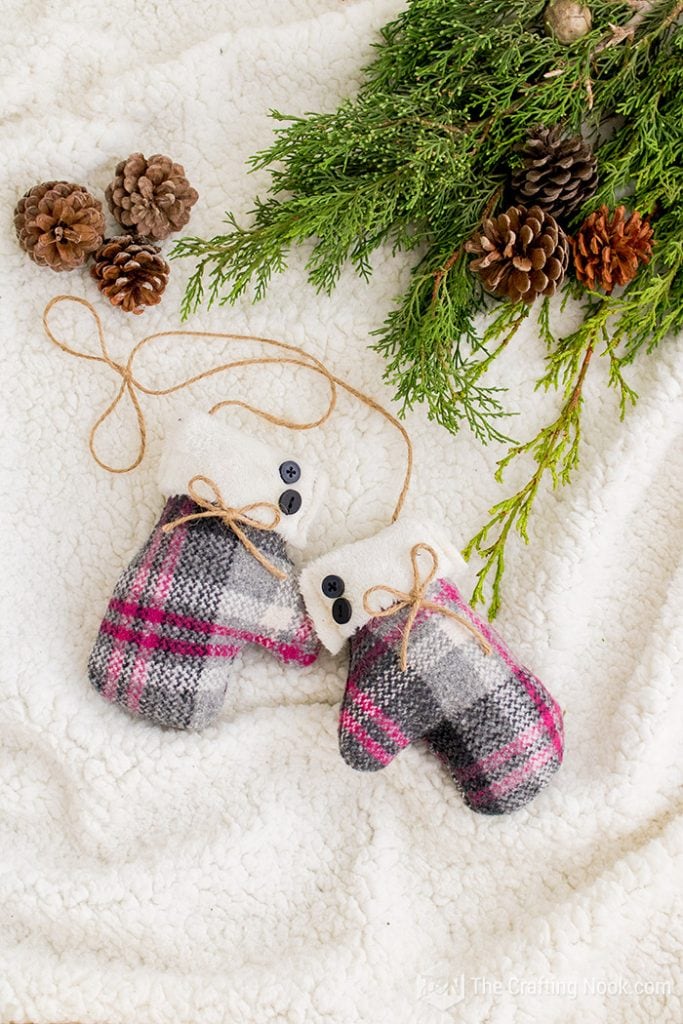 Make your own reusable fabric countdown chain for a fun and kid-friendly way to count down to Christmas!
A perfect project for scraps or a jellyroll, and easy to sew for beginners.
Make a Christmas tree on your fridge just for the kids.
These magnetic Christmas decorations are perfect for toddlers and preschoolers who like to hang ornaments again and again.
Christmas elves are those adorable little helpers that Santa employs to make toys and care for his reindeer.
These days the elf has also taken on a new role: The Elf on a Shelf.
Whether or not you participate in this fairly new tradition or you use a Kindness Elf, your kids will love making this paper plate elf just in time for Christmas!
Super easy to make with just one thing you need – pipe cleaners!
These simple snowflakes make a beautiful Christmas decoration on your dinner table or can be hung up on the Christmas tree as ornaments.
These ornaments are made with just a few simple tools and can easily be customized with different things like bows or buttons.
A super simple ornament even preschoolers can make for Christmas.
All you need is 2 ingredients to make these super simple and easy Homemade Cinnamon Ornaments!
A great DIY holiday craft or fun Christmas gift for both kids and adults to make and customize!
Fun Angel ornament to make with the kids this holiday season using pasta!
I think every kid loves to create things with dry pasta.
I remember back in the day when we were preschoolers and would make picture frames with dry noodles as well as pasta necklaces of course.
Brighten your Christmas tree with your own DIY Star Wars Lightsaber Lights, or use them as a night light all year round!
This is the perfect craft for any star wars fan.
What kid wouldn't love to make this adorable holiday creation?!
You need minimal materials for this Minnie & Micky Snowman Craft to help make your Christmas look and feel even more magical!
Beeswax is used to make this unique Christmas decoration that also makes a great gift for family members.
Candles made with Beeswax always smell extra good without any chemical fragrances and are easy to shape so kids can have fun while making the tree-shaped candles as well.
A really simple ornament that looks great on any Christmas tree is this ornament made with clothespins.
You can add a lot of extra decoration to it or leave it blank – either way it will look cute.
Did you know you can fit a whole winder wonderland inside of a small ornament?
By adding typical Christmas crafting supplies like fake snow and pine cones or even a small led light your ornament will be the highlight of any Christmas tree.
Do you need ways to keep your kid entertained while working from home? Get fun worksheets, coloring pages and more for free when you subscribe to my emails.
And find your tribe of like-minded parents in our Facebook group.
Pin it for later: